Mobile Auto Detailing in New York
We come to you with our high-quality mobile auto detailing services for vehicles of any size across New York, from Staten Island to Westchester, select the service that suits you.
Who we are
We are driven by the highest standards of professionalism and excellence. We know your time is precious, which is why we offer you the ultimate convenience. You won't have to leave your home or stop working, we work on your schedule.
Our goal is to bring auto detailing to your doorstep. You can continue with your busy life while we work on your pride and joy.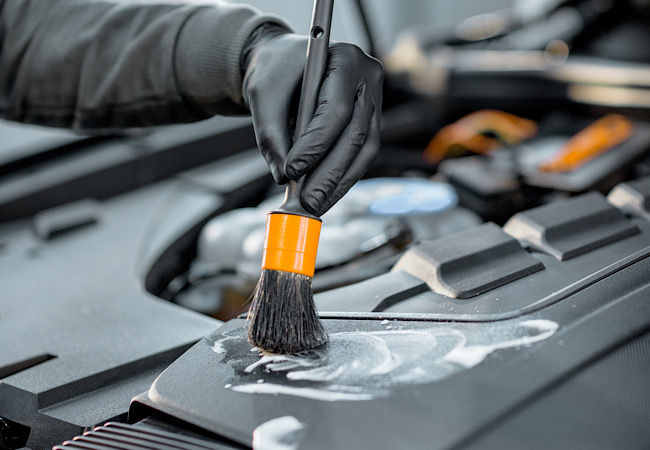 Auto Detailing Services
Our mobile service ensures you can keep your car in top condition no matter how busy you are. We bring the professionals to you and promise superior vehicle cleaning and detailing at your convenience.
How it works
We offer the ultimate convenience. Our goal is to provide you with the best auto detailing services without taking time out of your schedule. In three simple steps, your car will be as good as new.
Simply book a time convenient to you and set the location where we will perform the services.
Our highly-skilled auto experts will be there at the agreed time to work on the vehicle.
Once we've completed the job, we will process payment through our website.
Benjamin W
10/10 recommend getting your car detailed by these guys, Joe was super communicative and punctuality is on point. Erick did an amazing job cleaning, spot on perfect. I haven't seen it this clean since I first got the car, you can see the passion and detail Erick puts into his work. I highly highly recommend them you won't disappointed.
A.Mahfooz
I love the guys at NYC Mobile Auto Detailing.
They showed up on time and detailed my car inside out with care and you can tell they take their work and craftsmanship seriously and went above and beyond detailing my car. I would highly recommend them and will continue to use them for all my luxury vehicles in the future.
Michelle E
Joe and his team are friendly, punctual, and do an amazing job detailing the car, leaving it in impeccable condition (all the more impressive as our two young boys make quite the mess in the back)! And I really love the convenience of having someone come to me to wash the car rather than sitting around wasting time waiting for it to be cleaned. I highly recommend NYC Mobile Auto Detailing.
Sanela H
NYC Mobile Auto Detailing, is outstanding company. I booked services last minute, Joe reached out right the way, and confirmed my appointment. I booked 1 hours services, for interior and exterior. Erick showed up on time and started working on my car, I do have to admit my car was mess,  I do everything in my car, meetings, lunch, coffee, makeup, my son eats anytime in the car, snacks,  breakfast. I expected that this will be just surface cleaning, wipe down and vacuum.  Erick over delivered,  he spent over 2 hours cleaning my car. May car looks like the car when I purchased it, new cleaning, shiny.  After the job was completed I call Joe and offered to pay more, because I felt work that Erick did, cost so much more then what I paid. Joe thanked me and stated no need to pay more, his number one priority  is that his customers are satisfied, I cant wait to book again, because  I know my car is in great hands.
Anthony R
Great service and worth the price. My car was left cleaner than expected and looking like new. Definitely would recommend.
Danielle T
10/10…. My kids had spilled ice cream and no one has even been able to completely get it out of the seats and carpet. I can't believe how clean my car is I almost don't want to sit in it!
Rachel P
Erick did an amazing job cleaning my car's interior. He was able to remove stains from my rugs and seats. He is also very friendly! I will definitely come back to this company for my next detailing.
Zoie M
I will definitely be doing business with them again. They made my dirty car inside and out look absolutely brand new again! I absolutely love them!
Alexandra H
My son dropped a large cup of soda on the drivers seat and I was definitely panicking. I called so many people and this was the only business that helped me in this situation. I'm in NJ and they came right to me. The owner was so kind and understood that I needed help and he gave me a fast quote and worked with me. When Eric came to clean the car he was so kind and you can tell he was passionate about his work. He took his time to make my car perfection and he did it with so much care. I was so happy with the end results and my car was a mess before the spill. The soda spilling was a blessing in disguise because I got to meet an amazing person who left my car so brand new and smelling amazing. It put my mind to ease and I highly recommend them and will forever use them to clean my car. Thank you Eric for going above and beyond for me and really making my car look like I just bought it!
Jenny U
I definitely recommend mobile auto detailing for your car needs. I personally had my car for 10 years, I thought the scratches and headlights rust developed over the years would be impossible to be removed and fixed. But mobile auto detailing were able to make that happen. I was left speechless and amazed on how they brought my car back to life. They truly did an amazing job, the technician really took pride in his work and it shows. Took his time to fix all issues I mention to him about my car. Treats your car like his own! 100 times over I recommend!!!